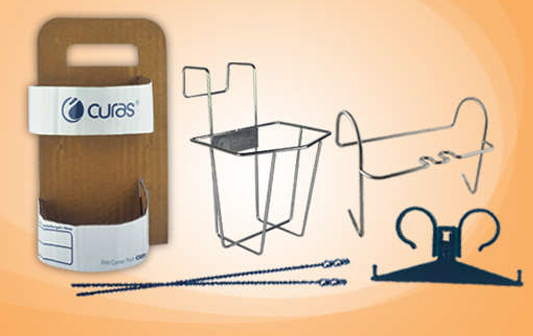 In order to support the hospitals, nursing homes, clinics and private patients; it is important that Curas continues to expand and improve the supporting Hangers and Holders range.
The proper use of medical devices and supplies requires easy access to purpose-built and carefully designed hangers and holders; and here at Curas we place vast resources at the challenge of providing such associated products.
The emphasis by Curas is two-fold; we produce new and innovative disposable solutions in line with our commitment to infection prevention, i.e. products that break the risk of cross contamination and help reduce the risk of nosocomials.
At the same time, by means of useful and medically sound designs and use of first grade stainless steel, we – also – provide for the user solutions where re-use is required. The high grade stainless steel enables a smooth surface that is possible to re-sterilize or otherwise decontaminate.
On the following pages and Product Datasheet we are inviting you to explore the wider Curas range.