10 May 2016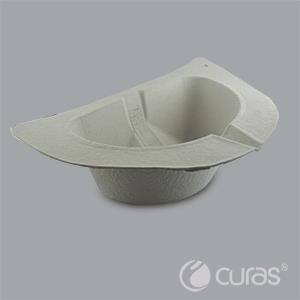 Curas is proud to add a new product to its Hygiene Pulp™ range, namely the REF 08040 Midstream Urine Sampler.
The product is a safe, economical and clean (disposable) device, made out of paper pulp, which can be placed in(to) the patient's toilet seat, the toilet bowl, the commode chair or indeed for a bed-ridden bedpan situation it can be used directly in the bed.
The new REF 08040 product comes with a capacity just shy of a litre, and it is manufactured with a best-of-class measuring scale (for volume indications only), which makes it very easy as well as hygienic to collect a mid-stream urine sample from the patient; without having one taken from a reusable bedpan where it risks being contaminated.
The growing Urine Handling category of Curas is the overall framework for this product, which can easily be disposed of in the regular waste flow, and the product can be used in conjunction with SAP by Curas™ fluid absorber as well as the new range of Curas Hygiene Control Bags, where the nurses might require additional Infection Prevention measures.