18 July 2016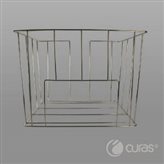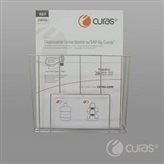 The growing popularity of Curas all-new range of disposable urine bottles, delivered in its best-of-class and smart design Compact Dispensing Cartons (e.g. REF 08056) is now becoming supported by the high-quality REF 11500 Wall Rack product.
The new wall rack is manufactured from the high quality stainless steel specification of metal, and thanks to its unique wall-lock system, it is easy to remove from its regular position, in order to expose it to additional disinfection procedures.
Behind the design of the REF 11500 Wall Rack system, and the associated disposable urine bottle products, lies the unique agenda by Curas to introduce and enable hospitals and nursing homes to distribute a safe-choice urinal bottle, without a. having to re-use a bottle, b. enduring the very high costs & risks involved in disinfection steps and finally c. avoiding the potential and harmful airborne driven cross-contamination by involving the sluice / utility room: The new compact wall racking system enables clinicians and facility managers to select – clean, safe and practical – points where to place the dispensing units; just like it has been done for examination gloves, aprons etc.
Please make your enquiry about this new solution by contacting us This email address is being protected from spambots. You need JavaScript enabled to view it.